CATHEDRAL SLIDING DOOR WARDROBES
If you are looking for an elegant, high quality, soft closing, space saving solution, a Cathedral Sliding Wardrobe is the answer. Maximise your storage space from floor to ceiling, wall to wall, the minimalistic feel is popular as it will organise your space.
KEY POINTS TO THE SLIDING DOORS  
All doors are Made to Measure; Minimum door width 610mm & Max 1080 wide & 2440 high
Doors run along bottom rollers and are "anti-jump".  No weight hanging from your ceiling.
Bottom Rollers come with a Lifetime Guarantee
Optional Soft Closing Mechanism available
Aluminium Curved door profile & track sets available in Satin Silver, Satin Champagne, Polished Graphite, Gloss White & Gloss Black.
This system is predominantly designed to house mirror and glass which are all British standard safety backed; silver plain mirror, grey & rose tinted mirrors.  Coloured Lacobel glass (glossy) & Satin (non glossy) glass available in a rainbow of colours.  The doors can be split horizontally or vertically with portions of panel finishes.  The design possibilities are endless!
KEY POINTS TO THE SUB FRAME & INTERIORS
The "Sub Frame" is made from MFC (Melamine Faced Chipboard). This includes an end panel (if required) and/or floor to ceiling "L" shaped wall scribes, ceiling header & a floor plinth for the bottom track to fix to. There are many finishes available, from Whites & Creams, Grained Oaks to Matt Greys & Pebble.  We will be sure to have a colour you desire.
The "Sub Frame" is 80mm deep and sits in front of your interiors keeping it separate and clear for the doors to slide. The recommended over all depth of a Cathedral Sliding Wardrobe is 650mm.
The interiors are also made from a matching MFC so your interiors will match your exterior sub frame. The interior layout will be designed around the position of your sliding doors for ease of access.  Interior ideas such as a top shelf, upright dividers, open shelf units with or without drawers, pull out shoe racks, pull down hanging rails to name a few.
We can accommodate fitting around chimney breast, bulk heads, sloping ceilings, within existing architrave openings and any other obstructions you may have.
The interiors are separate from the sub frame & sliding doors so you will see your back wall, side walls, ceiling and floor inside your wardrobe. There is no "base" to this interior system.  Many of our clients have carpet fitted inside the wardrobe afterwards.
We do not recommend fitting the Cathedral Sliding door system on top of carpets, we require a solid surface to fit and level your floor plinth. If you already have carpets fitted, we can pull these back & fit directly to the floor.  We can organise a professional carpet fitter to cut and re fit your carpets up to the front & inside your new wardrobes after we have completed your installation.
Matching bedroom furniture & accessories are available in the majority of the sub frame finishes so your bedroom suite is complete!
To download our Cathedral Sliding Door information click on the button below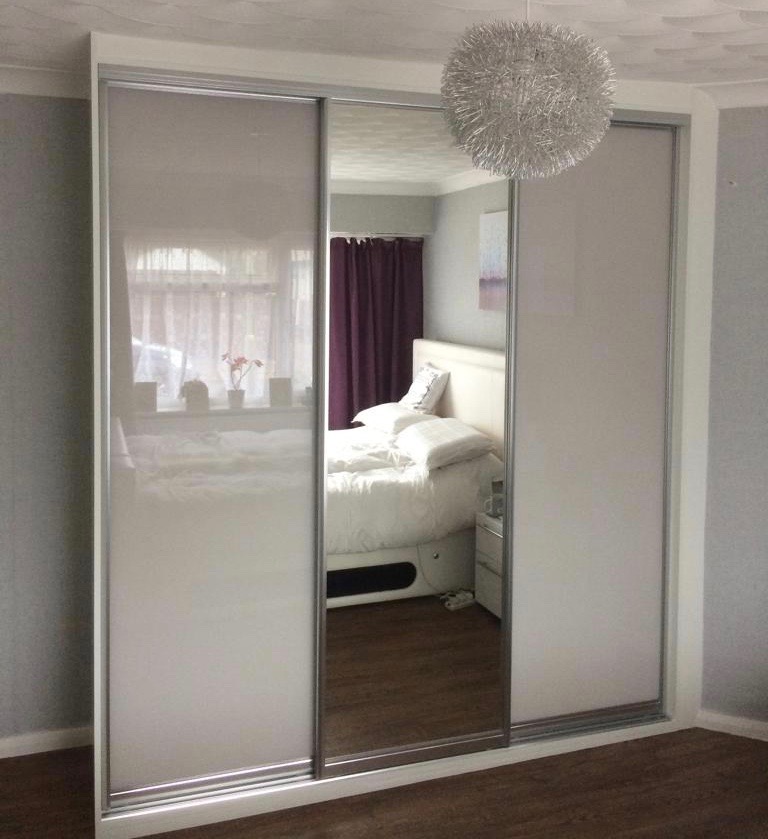 BOOK A DESIGN APPOINTMENT