Thank you both so much for all of your hard work and consideration when fitting out and planning our new dressing room. It is totally fabulous, we are both delighted to have so much storage.  Your attention to detail was really appreciated and everything went exactly as you had planned. It was also great to always have a prompt reply to a phone call or email. We will definitely be recommending you.
Jenny P, Chichester. 
Chichester Bedrooms provide a first-class service from initial enquiry through to completion of installation. Their prices are very competitive and we rate them at five stars. They kept in regular contact throughout.  Jo has great design skills and helped us to choose the best options for us. Installation took place on the agreed date, was completed ahead of schedule and we are thrilled with the results. Jo and Greg are a great team, a pleasure to deal with and we would have no hesitation in recommending them.
Ray & Ann H, Selsey.
I cannot praise the quality and style of my new wardrobe enough I am really thrilled with it – and all my friends are rather envious.
Jo and Greg go out of their way to give the best possible customer service – efficiency is combined with a pleasant and business-like manner. I would thoroughly recommend their business to anyone wanting a quality product. Without hesitation I would give a well-earned 5-star rating.
Angela D, Chichester. 
I didn't know this company beforehand but meeting Jo put my mind at rest. They clearly have a lot of experience and enthusiasm for what they do. Jo took the pressure off by taking all the measurements beforehand and helping me choose the best design to maximise space in a small bedroom. Her design experience was also useful in helping with the overall colour scheme. I was provided with a quote straight away and booked in for the installation. All time frames were kept to and in Greg's case he finished installing them ahead of schedule and took care to leave the room clean and tidy. They're a lovely couple to work with and totally solved my storage problems. I'd definitely use their services again and will recommend them to friends.
Jane, West Sussex. 
Chichester Bedrooms have very competitive pricing, and Jo has great taste and endless advice. She was always at the end of the phone/ Email and I felt very looked after with quick responses. Greg was a very clean worker and to schedule, Trustworthy enough for us to leave him a key, Carried out Perfect and Precise work. Both Jo and Greg were very approachable and nothing was ever too much trouble. I will definitely be recommending Chichester Bedrooms.
Karen F, Hampshire.
We are delighted with the finished product, Greg did a highly profession job. It was a great design and far superior to the off the shelf solutions offered by others.
Keith and Jan K, Chichester.
Jo was our introduction to Chichester Bedrooms and she could not have been more helpful and imaginative with her suggestions of our bare outline of a vague plan for a dressing room in our new home. Nothing was too much trouble and then her visit to our home was in very quick time, followed up with emailed pictures of how the built wardrobes would look when completed. On the date planned for Greg to fit the wardrobes, he turned up at exactly the time he said he would, every day for 4 days and worked solidly, carefully, tidily, every inch of the fitting was perfect. We are so very pleased with the end result of their work, design and fitting. We could not have asked for better service from Chichester Bedrooms, they are an extremely efficient, friendly and very competent local company.
Jane & Patrick G, Birdham.
Great Company, materials very high standard as well as the fitting. Very friendly and professional service. Well recommend.
Mary & Pete W, Selsey.
Jo and Greg provided an excellent service. Jo interpreted my ideas for a partitioned off dressing area remarkably quickly from an incredibly brief telephone conversation.  Admittedly, it did take a subsequent all-day meeting to drill down on all the finer details of the project though. The protracted appointment necessary largely because of my indecisiveness. Jo was infinitely patient throughout the decision-making process and gently coaxed us towards the final design. Jo's ability to conceptualise our thoughts was outstanding and she came up with some brilliant ideas.
She also prevented us from falling into some terrible pitfalls, such as creating a tunnel of repeating reflections by placing a dressing table mirror opposite a mirrored door. As for Greg, he remained focused and exacting throughout the installation process. He will simply not accept even the minutest of flaws. He carried out a very complex installation with great accuracy and made the tight deadline as well.
The result is just what we envisaged and we are delighted with the wardrobes, shelving and dressing table area that he built.
Both Jo and Greg strive for absolute perfection and complete customer satisfaction. They won't accept anything less. I therefore wholeheartedly recommend Chichester Bedrooms.
Zz & Martin, Chichester.
We are so pleased with the new bedroom furniture, it looks absolutely fabulous. Thank you so much for the excellent service that you have both provided. It was top class and seamless from start to finish. I would definitely recommend you.
Caroline & Glen, Aldwick.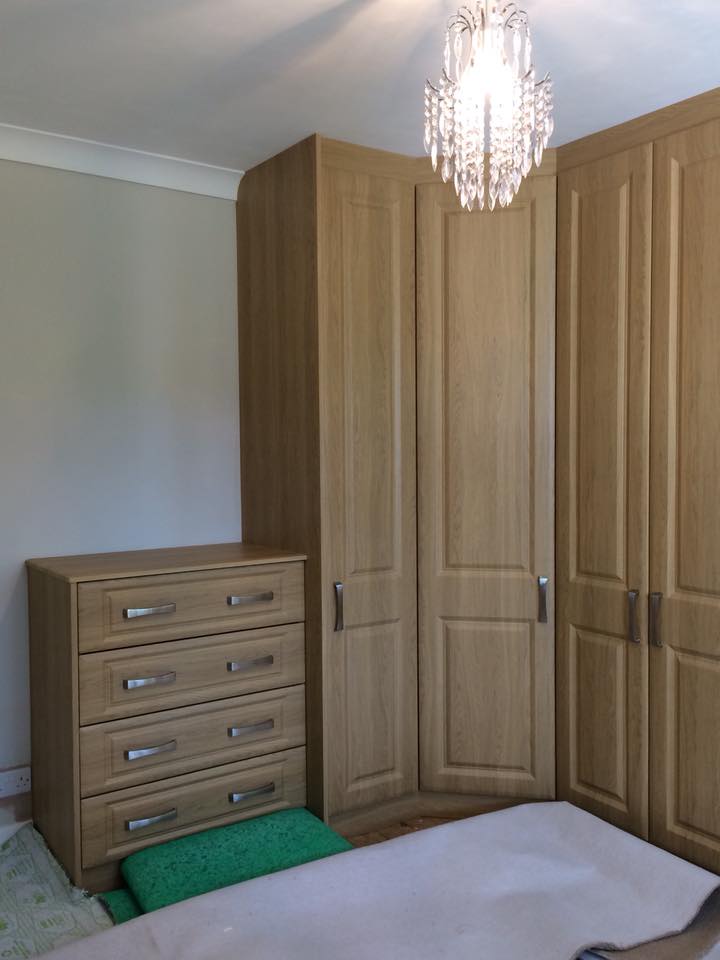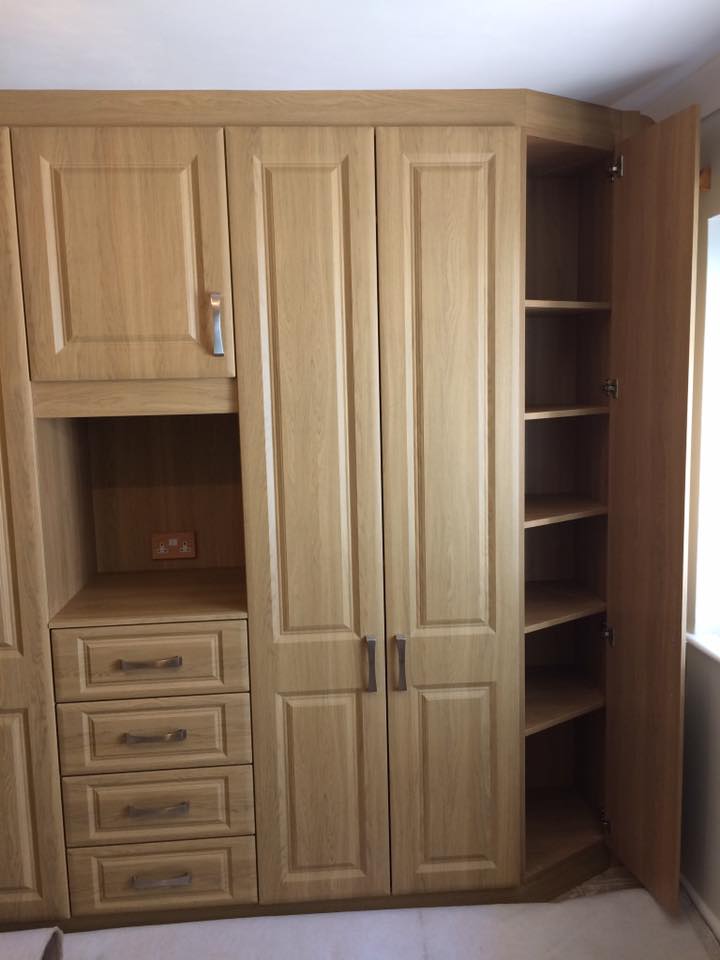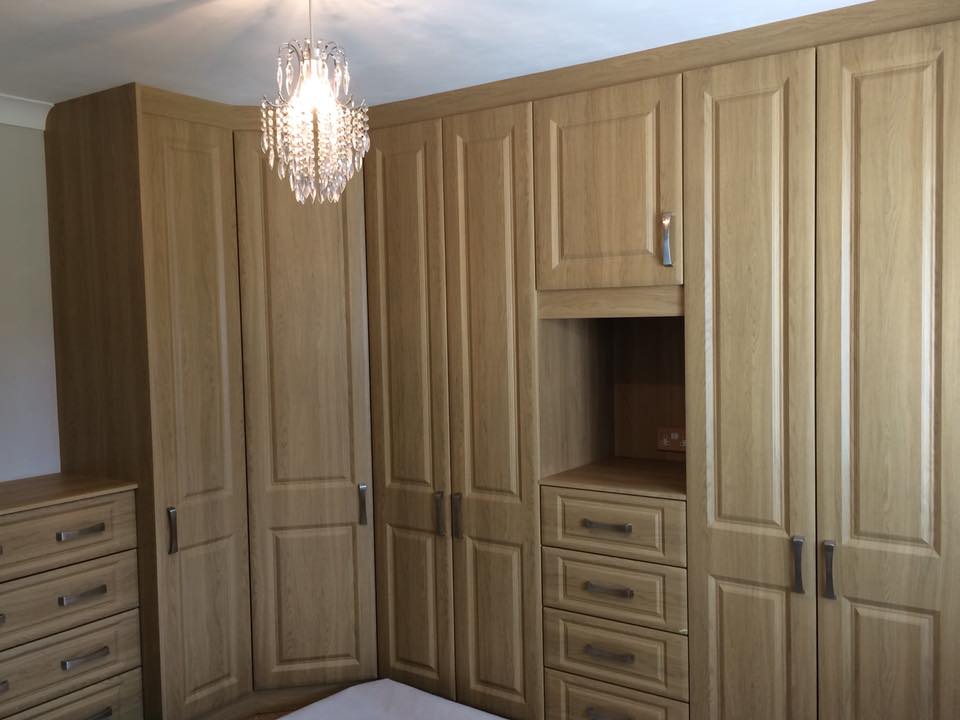 Having just moved into our retirement bungalow, we chose
Chichester
Bedrooms Ltd to install fitted wardrobes, cabinets and drawers in our main bedroom.
From
Jo
's design to
Greg
's installation was the perfect customer experience and fairly priced.
Both have an eye for detail; the workmanship was excellent and the finished product was immaculate – just what we wanted!
We whole-heartedly recommend Chichester Bedrooms Ltd.

Mr & Mrs John, Bognor Regis
BOOK A DESIGN APPOINTMENT